Make simple Mutton Pulao Recipe | Mutton Pulav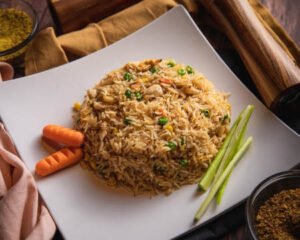 Mutton pulao recipe is simple and easy to make. We have shared with you the easy method and ingredients that are required to make this wonderful recipe. To make tasty mutton pulao recipe you need fresh red meat and spices.
Let's Start
Prep Time30 min
Cook Time1 hr
Total Time1 hr 30 min
Serving Size4
Ingredients of Mutton Pulao
350 gm – Mutton or lamb chops
Black Cardamoms – 4
Cups Rice – 2
Hot water for Rice
Peppercorns – 1 tsp
Cloves – 6
Red chillies – 4
Cinnamon – 1 inch (pieces)
Ghee – 1 tbsp
Onions – 1 cup (sliced)
Salt – 1 tsp (or as taste)
Kashmiri chilli powder – 1 tsp
All spice powder – 1 tsp
Add Food Color
Instructions:
How to Make Mutton Pulao
Firstly, Heat pan and add ghee, then add peppercorns, cloves, red chilies' and cardamom.
All get darken a bit, then add some onions and cook it.
Then add the meat, chilli powder, spices and salt.
Stir fry meat, till it is soft and then add 2 cups of water. Then bring it to boil and cook the meat till it get tender.
Strain the mutton and keep aside and then measure the liquid and add 3 cups of hot water.
Mix meat and rice together and bring to boil and cover it for 5 min.
Sprinkle the dhania and then serve it.
Serve mutton pulao/pulav hot.
Read more : benefits of Apple cider vinegar
Serving Size4
Amount per serving
Calories0
% Daily Value*
* The % Daily Value (DV) tells you how much a nutrient in a serving of food contributes to a daily diet. 2,000 calories a day is used for general nutrition advice.