Juicing has become extremely popular over the past few years, and it's easy to see why: Not only can it help you build healthy eating habits, but it can also help you lose weight! In fact, one of the top 10 health benefits of pomegranate juice is its effect on weight loss.
Here are 10 reasons why you should drink more pomegranate juice if you're trying to lose weight.
1) Natural Cravings Suppressant
Since pomegranates contain a special group of polyphenols known as ellagitannins, studies have shown that drinking pomegranate juice can help suppress hunger and prevent overeating. Plus, research suggests that it may even reduce fat levels in your body.
That's because it contains punicalagin and ellagic acid, two unique polyphenols with powerful antioxidant activity. These compounds work by reducing glucose absorption in your intestinal tract, which not only helps improve blood sugar levels but also fights abdominal fat storage. So pour yourself a tall glass of juice before eating a meal to curb your cravings!
2) Boosted Metabolism
Pomegranate juice is not only a rich source of vitamin C, but it's also loaded with antioxidants and phytochemicals that boost metabolism to burn more calories. Many studies have shown that people who regularly drink pomegranate juice lose significant amounts of weight over time.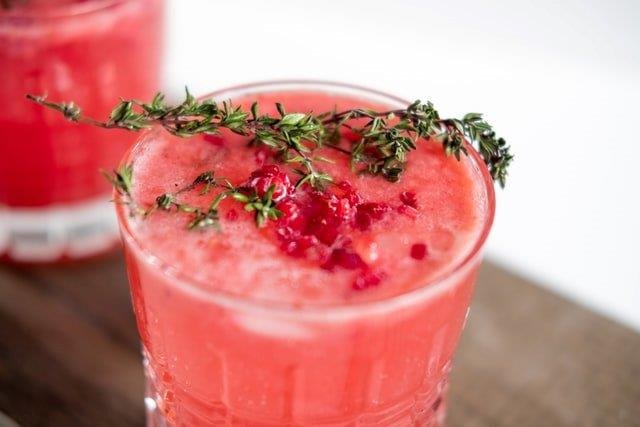 3) Improves Heart Health
Research suggests that drinking pomegranate juice daily may improve heart health. A study from Keele University in England found that those who consumed a glass or two of pomegranate juice per day had lower blood pressure, less build-up of arterial plaque and better circulation than those who did not drink it.
Those who drank 100 ml (about 3 1⁄2 oz.) twice daily over a five-week period experienced improvements to their endothelial function, which is important for maintaining healthy arteries.
Read also : Home Remedy With Apple Cider Vinegar That Works
4) Lower Cholesterol
Containing compounds called ellagitannins, pomegranate juice is well known for its cholesterol-lowering effects. Research indicates that those who consume moderate amounts of pomegranate juice daily can reduce their total cholesterol and LDL (bad) cholesterol by as much as 10 percent. If you want to drop those extra pounds safely but quickly, lowering your cholesterol should be a top priority.
5) Cancer Prevention
Study after study has shown that pomegranate juice may help prevent breast, colon, and prostate cancer. The secret lies in a compound called ellagic acid, which appears to interrupt tumor development at multiple stages. Early studies have found that pomegranate juice may be effective against skin cancer as well—and it tastes great! It's also very low in calories and loaded with antioxidants. What's not to love?
6) Reduces Blood Pressure
Drinking pomegranate juice on a regular basis can have a positive effect on your blood pressure. A study conducted by Fudan University in Shanghai, China found that participants with high blood pressure who drank 100 milliliters (about 3 ounces) of pomegranate juice every day over an 8-week period had significantly lower systolic and diastolic blood pressures than those who did not consume any type of pomegranate product.
Read also : Low blood pressure home remedy
7) Anti-Inflammatory Properties
Though there are many health benefits associated with pomegranate juice, one in particular is its anti-inflammatory properties. Inflammation has been linked to obesity and obesity-related diseases, so it's no surprise that reducing inflammation can aid weight loss.
In addition to pomegranates, other foods that reduce inflammation include avocados, grapefruit, oranges and turmeric.
8) Regulates Blood Sugar Levels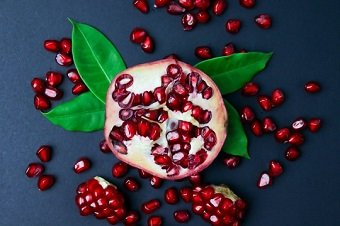 Many studies have been conducted in recent years on pomegranate juice and its health benefits. For example, pomegranate juice may help regulate blood sugar levels and reduce insulin resistance, which can make it easier to lose weight and maintain a healthy weight.
Additionally, research suggests that drinking pomegranate juice on a regular basis may lower blood pressure and even promote heart health. Drink up!
9) Prevents High Blood Pressure and Hypertension
Though it's not well-known, pomegranate juice can help keep blood pressure under control. High blood pressure is a major risk factor for heart disease, kidney disease and stroke. According to research published in 2007 in The Journal of Agricultural and Food Chemistry, drinking pomegranate juice daily can significantly lower blood pressure.
10) Helps People with Diabetes Control Their Blood Sugar Levels
Drinking just two glasses of pomegranate juice daily may help people with diabetes control their blood sugar levels, according to a report published in Natural Product Communications.
A study from researchers at Iran University of Medical Sciences found that drinking 100 ml (3.4 ounces) daily for three months helped reduce fasting blood glucose and HbA1c levels.
Conclusion
Drinking pomegranate juice is a great way to boost weight loss. Not only does it make it easier to cut calories, but it's packed with antioxidants that help keep your body healthy and prevent against degenerative diseases like arthritis, Alzheimer's and heart disease. The next time you're craving something sweet, reach for some pomegranate juice instead—your body will thank you!